Name Changes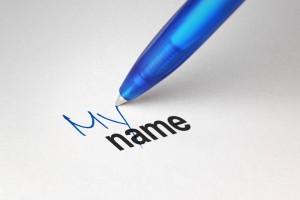 One common practice in both a marriage or a divorce is for the wife to change her last name to her husband's last name. However, it is common, nowadays, to forego this tradition. Women are living out the option to keep their own last name, or hyphenate their last names together. Whichever option you decide to use, your last name plays an important role in your life, as it is necessary as a legal classification of your identity. In the event that you change your name, it is important to notify a wide variety of institutions, from the post office, banks, creditors, employers, social security, and many, many others.
As this is quite a common process, nowadays, we at Nelson, Taylor, and Associates have a tremendous amount of experience in dealing with the process of name changes.
Marriage certificate as a document of name change
After getting married, it is relatively easy to use your marriage certificate as a document to signify a name change. Most entities will fully recognize it as such, especially if you are changing your last name to your husband's, as it is such a common occurrence. After getting married, simply begin to use your new name in any new accounts that you open. You can also notify any institutions that you have old accounts with of your name change. In the event that you need to require a document of your name and identity, just use your marriage certificate, as well. Once you update your driver's licence (or even social security card) to your new name, it will suffice as identification.
Changing your name outside of marriage
Marriage is not the only reason why a person may want to change their name. All the time, there are people who simply decide to change their names to something new. While the most important part of changing your name is to simply start using it and have people refer to you with it, you will eventually need to go through a court process to get your name changed so that you can provide legal documentation of it.